December 09, 2021
Investing in Pamm accounts with Equite service
Investing in PAMM accounts with Equite service
Earnings on cryptocurrencies attract more and more users every year. And today it is possible to assess the potential of a niche with a minimum investment of effort, money and time.
What are PAMM accounts?
Percent Allocation Management Module or PAMM-accounts is a trust management format in which a trader-manager manages the trading structure and investments of investors.
It works like this:
A trader starts trading with his own savings and gaining experience, and then creates an account to attract investments.
Those who want to earn extra money, but not waste time on trading, find a manager with large capital and good indicators and trust him with money.
The manager trades in the foreign exchange market with a large capital, makes a profit, and charges a percentage for the provision of services.
An investor can work with several traders to spread and mitigate risks in this way.
Advantages and disadvantages of PAMM
Investing in brokers through PAMM is popular among both beginners and experienced professionals. They have several undeniable advantages:
Saving time. Such tools allow you to invest without direct participation in the trading process, which usually requires the most attention.
Minimal risks. Using proven services, you get the opportunity to choose only the best traders. Equite provides transparent statistics by which you can assess the real potential of the candidate.
Trader involvement guarantees. For example, to become an investment capital manager, an Equite trader needs to have equity capital: at least $1,000.
For those who want to manage the funds raised, this is an opportunity for more earnings.
The disadvantages of such interaction with the market include the following features:
This format is not suitable for those who prefer to independently manage their account and take more participation in the process.
Trust management does not limit investment risks.
But they are limited by the professionalism of your manager, the level of which can be determined using Equite.io- this was mentioned above.
How to use PAMM on equite.io
Our investment platform offers several earning opportunities for both traders and investors.
Option one
If you want to invest in cryptocurrency in this way, follow the instructions.
Step 1.
Create an account on the site: you can register with your email address or log in with your Google and Facebook accounts.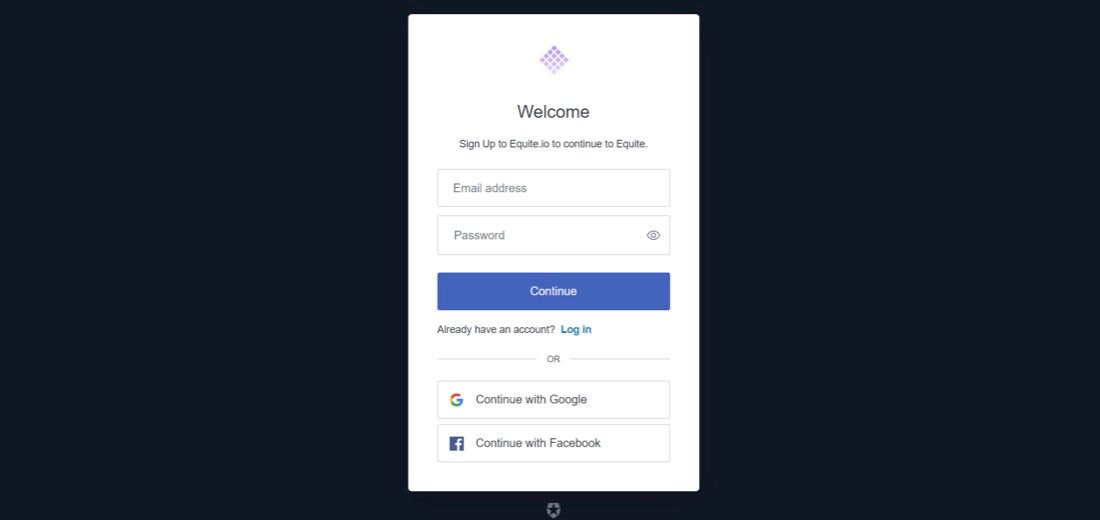 Step 2.
Go to the "Wallet" section to replenish your USDT deposit in one of the convenient ways: through the TRC20 network or the CoinPayments service. The minimum amount for those who want to invest in PAMMs is $100: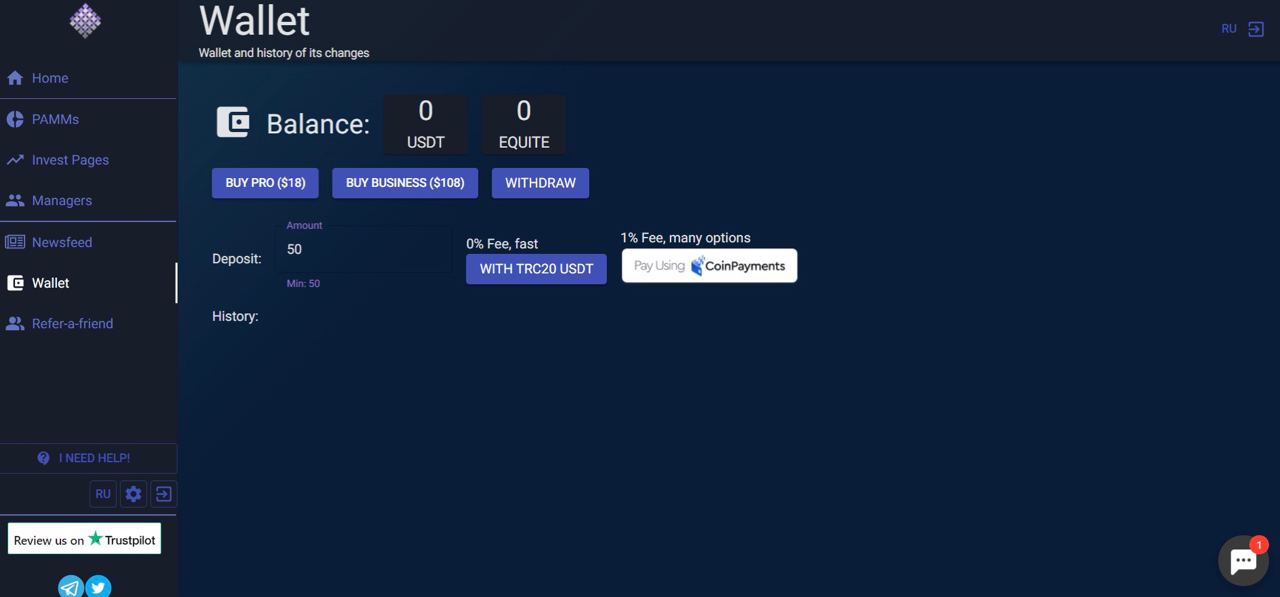 Step 3. 
Go to the «PAMMs" section. The platform will offer you, applicants, valuable data on their work - select one of the options to learn more about it. Deposit funds to the account of the selected specialist and start working.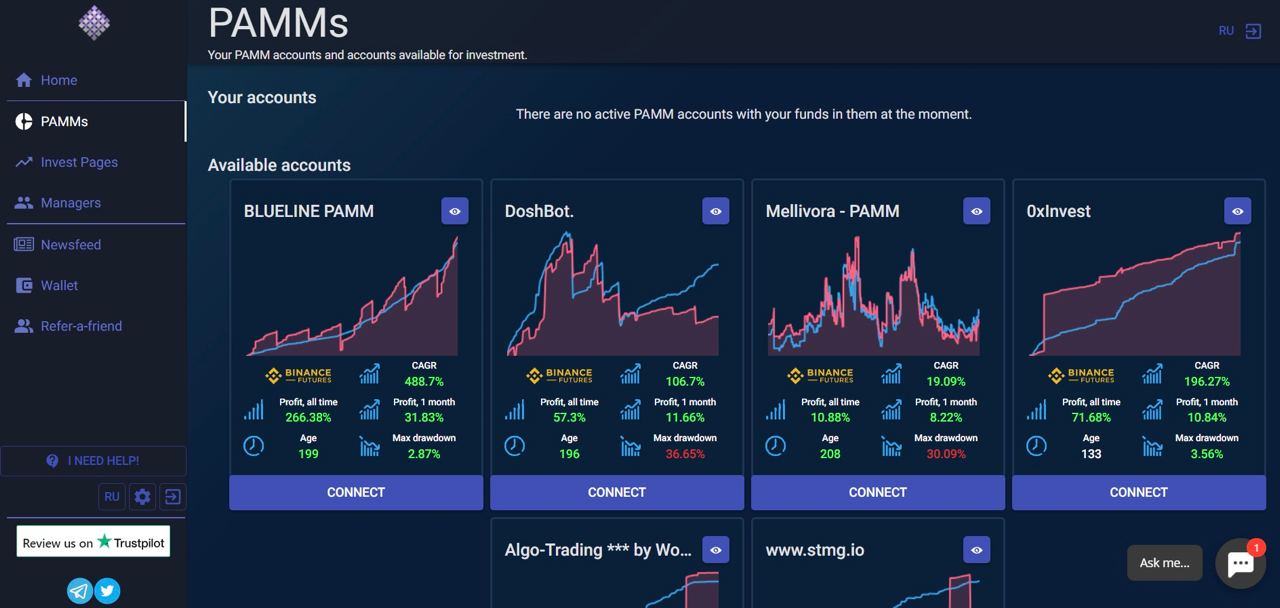 Option two
There are three tariffs for the merchant: Personal, Pro, and Business. The last two will help expand the functionality of your personal account and built-in tools.
Step 1.
If you want to take this highly profitable position, build a good reputation and make a profit, after registering and replenishing a deposit in the amount of $1,000 or more, select the appropriate option: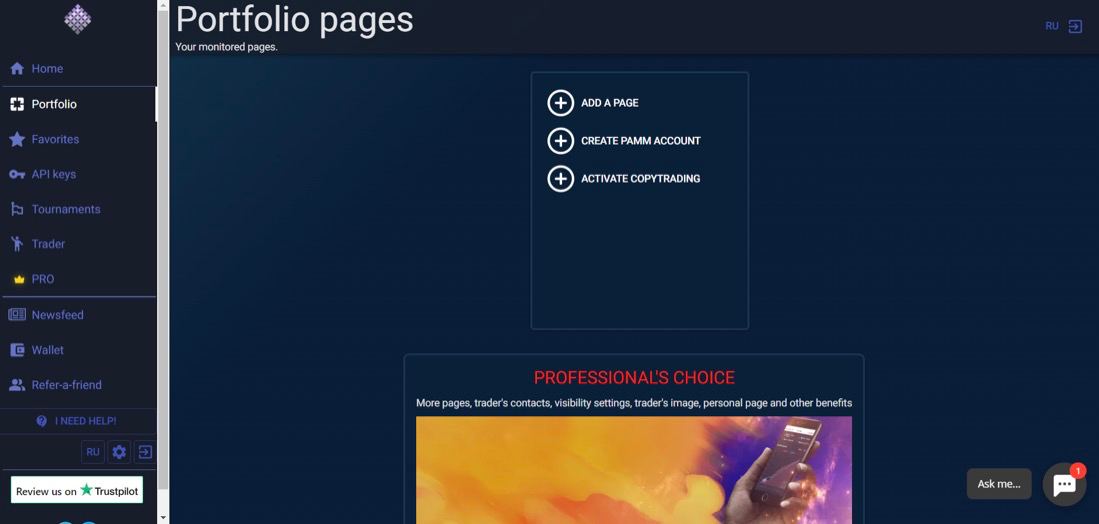 Step 2.
Specify the settings. Name, frequency of payments, amount of remuneration, and time of automatic transfers in UTC. If desired, the profile can be excluded from the rating.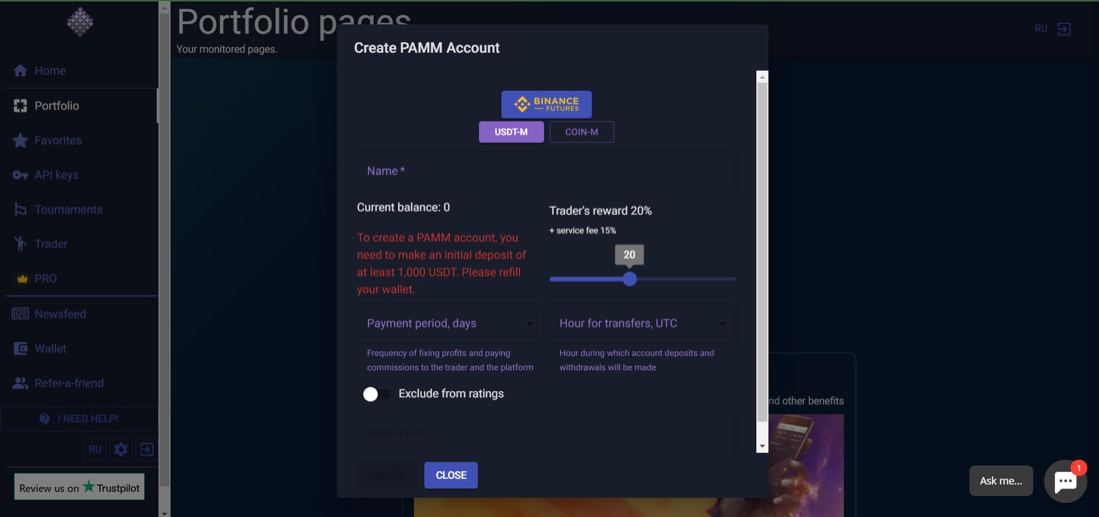 Step 3.
Start trading and share your profile to find partners.
Traders choice
When investing in this manner, your job is to select a professional, experienced partner. For this, several criteria are considered:
1. An experience. Evaluate how long the manager has been in office. This will allow you to understand if he has the necessary skills.
2. Income. Attention is paid to this point in the first place. But usually, it does not always guarantee successful and profitable cooperation.
3. Capital. Equity and amount invested in management: represent not only the degree of involvement of the trader but also the trust from other investors.
4. Drawdown. Look at the maximum loss percentage to see how much money a trader can lose.
Equite.io metrics
The advantage of the service is the ability to choose according to real indicators and results. The system is convenient for both sides of the relationship: the first will quickly recruit wards; the second will protect itself from scammers and incompetent exchange players.
Let's consider the system in more detail.
This is how the manager's profile looks like: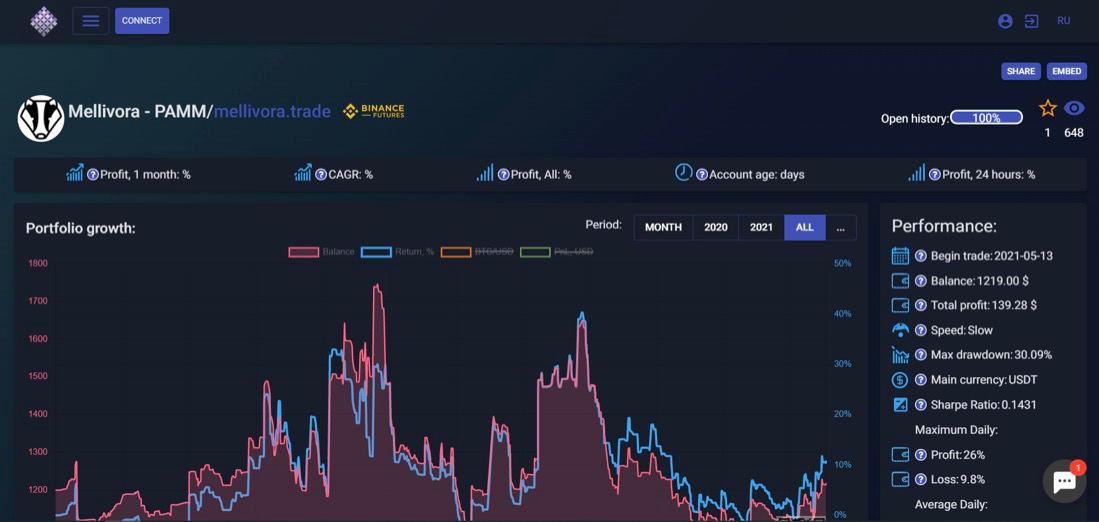 At the top are important indicators: name, profit per month, day and all-time, average percentage annual earnings on strategy or CAGR. The graph shows growth for different time intervals: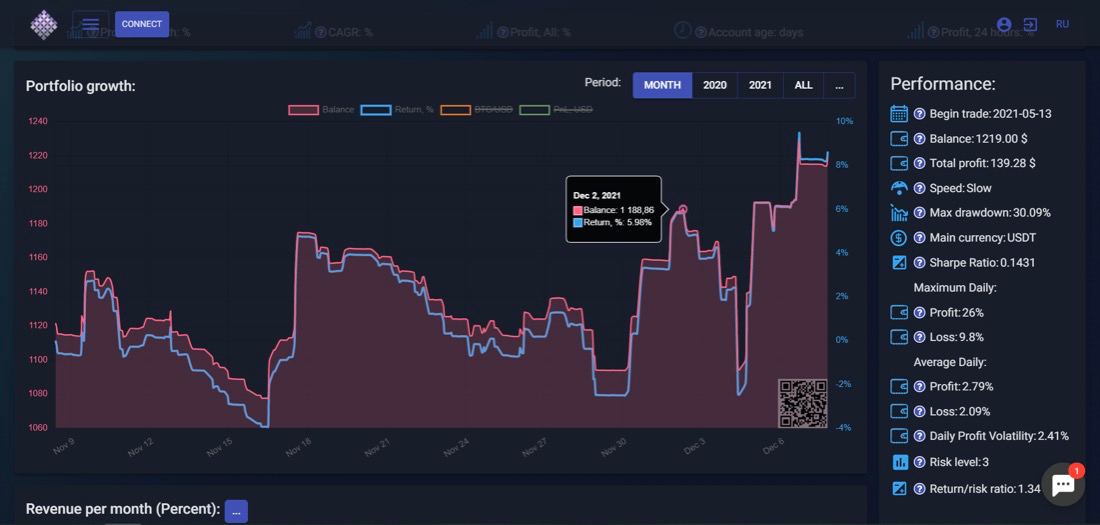 In the side menu on the right, in the Performance column, 16 indicators are listed that characterize the results of an account:
Date of the first transaction;
Current balance: personal funds and third-party investments;
Actual profit: the amount earned since the start of work;
Trading speed: how often and how actively transactions take place;
Drawdown: shows the maximum amount of loss;
Account currency;
Trading pairs;
TOP pairs, if their number is more than one;
Average return rate;
Maximum and average daily profit and loss indicators;
Volatility;
Risk;
Volatility-based risk.
Due to this tool, you can choose the right specialist and start earning with minimal investment.